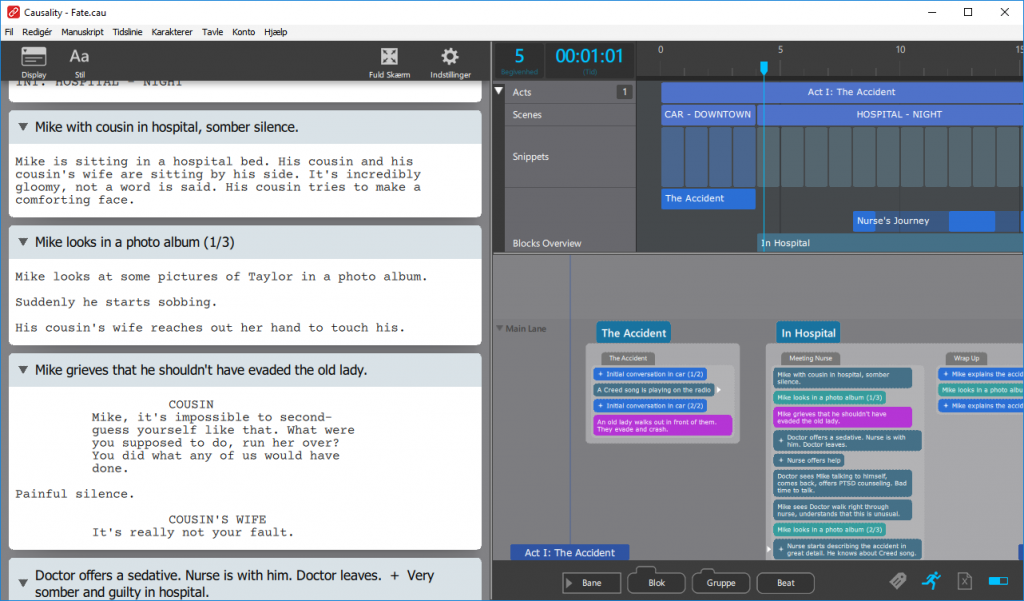 "Causality is a new kind of writing app where you develop your story visually, giving you an incredible overview of even very complex stories.
Causality looks simple, but the engineering is anything but. Inside, a sophisticated Story Sequencing Engine™ analyzes all the events in your story, finds your plot problems, and comes up with the most logical sequence." Kilde: Causality
Jeg er tester på denne "Final Draft" og "Scrivener" killer.
Causality kan bruges til både bøger, noveller og filmmanuskripter, og så er den faktisk udviklet af en dansker.
Hvad kan den?
Character development.
Story synthesis.
Deep character tracking, thought/feeling/inventory/conflict tracking.
Film production features like revision management, production reports, script supervising.
Automatic book layout and publishing.
Mobile apps with full desktop experience.
Sync, sharing, team collaboration.
Integration with Shot Designer 3D for immediate previz of your script as you write it.
Multimedia integration (storyboards, animation).
Layers, translations.
Status
" We're very close to releasing the multiple language features for Causality. "
Download Causality
Du kan hente nyeste version af Causality her:
228 total views, 3 views today